Patagonia Activism
Elevating Patagonia's activist efforts as part of the site redesign.
UX / Visual design
/ About

Prior to the redesign, Patagonia's main navigation was [Shop] and [Inside Patagonia]. The latter was a was an unorganized culmination of Patagonia's contributions outside of its clothing business.

Activism was elevated to be one of the four new nav items. I was responsible for its experience.
/ Structure

We started broad and looked at basic page architecture. This was determined by our goal, and vice versa.
/ Goal

Capturing our internal goal. This followed us all the way through the finish line.

/ Research
/ Content

A majority of the project was breaking down the content and its hierarchy on the decided one-page landing.

According to customer insights, newer Patagonia customers often don't know about its environmental programs. There was also an internal desire to show the latest and greatest to returning customers.

Finding the balance of speaking to both audiences was tricky, along with inspiring them to hopefully get involved in non-profit opportunities.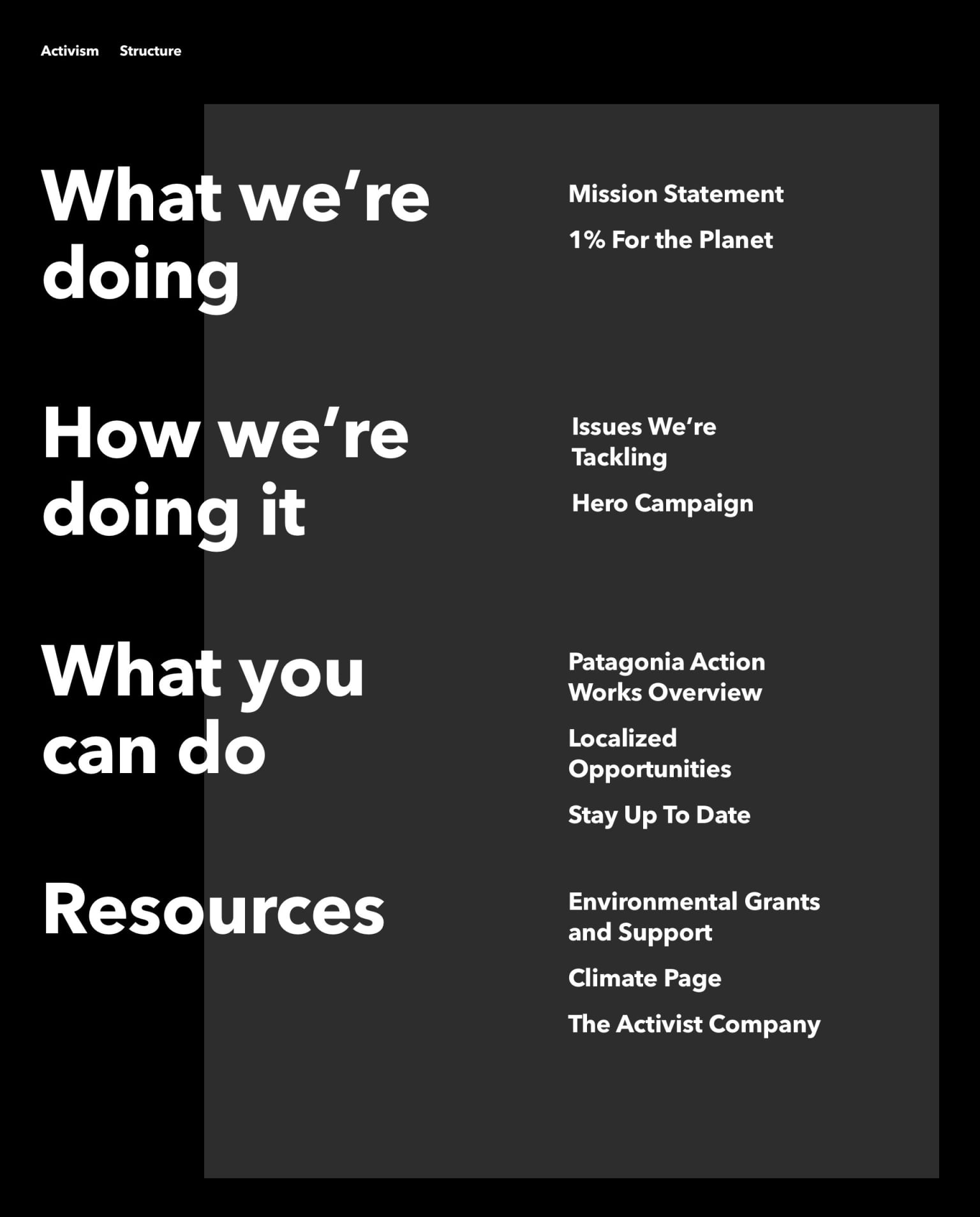 / Linking Strategy

Part of the reasoning behind a single landing experience was to link out across the site.

This was our way of showing the user how integrated activism is throughout the business. It also prevented redundancy.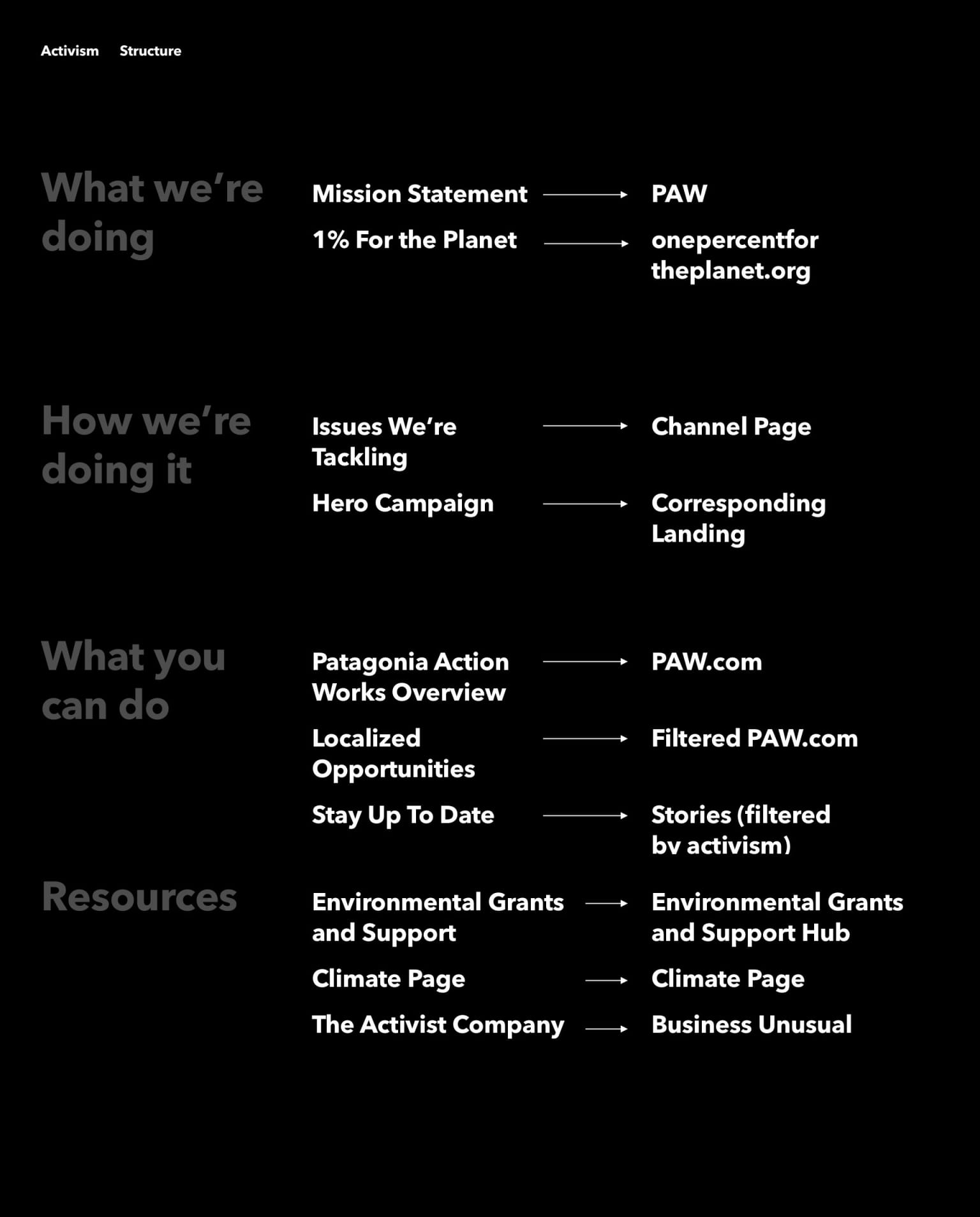 / Wires

We were between two versions for how the content plays out.

v1 focuses more on the components and directing users to each of those full experiences.

v2 tells more of a story, with the addition fo two larger interstital moments. One for our current hero campaign, and one for Patagonia Action Works, our activism platform for non-profits and skilled volunteers.

/ Comps

The two directions as comps, with a few iterations since the wires above. We went with wire v2 and played with the idea of blowing out a "manifesto" near the top of the page.

/ Navigation

Two nav directions for desktop. Splaying out the menu items vs tucking them into a hamburger, and variation on nomenclature.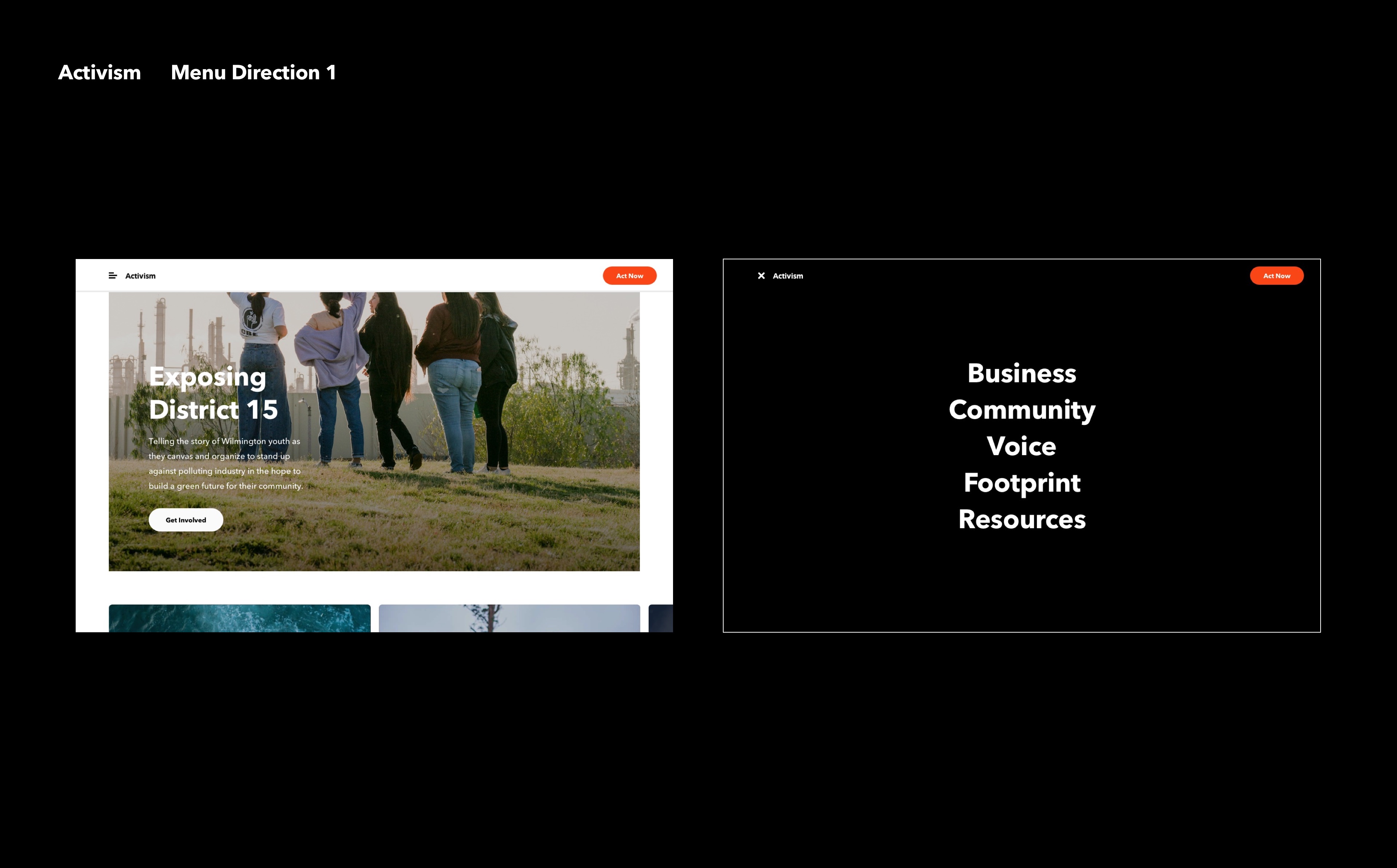 / Visual Design

A unique visual identity
was considered. I presented some loose options, but ultimately it was decided we stay within our current design system to further illustrate how activism touches all corners of the business.
/ Launch

The majority of work for this project was establishing a structure / content strategy, and getting it approved by major stakeholders: the brand team, and the environmental and social responsibility team.

Once the framework and approvals were there, I worked with the photo director, enviro copy editor, and development team to prepare the experience for launch.
/ Final Thoughts

Since launch, Activism has ranked 84th in most trafficked pages. Shopping still remains the primary intent, followed closely by customer service. But Activism is next, which is super exciting.

I hope to take a look at how the framework has held up since our redesign launched last year.